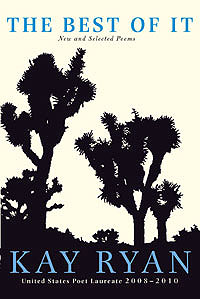 You've probably read the recent press release that Kay Ryan and her collection
The Best of It
won the 2011 Pulitzer Prize for Poetry. The two other finalists were Maurice Manning for
The Common Man
, and Jean Valentine for
Break the Glass
. The judges were Grace Schulman, Susan Stewart, and Ted Kooser. Here's the judges' citation from the official press release:
"Awarded to
The Best of It: New and Selected Poems
, by Kay Ryan (Grove Press), a body of work spanning 45 years, witty, rebellious and yet tender, a treasure trove of an iconoclastic and joyful mind."
Last year the Creative Writing Program at the University of Tennessee was fortunate to have Kay Ryan as a Visiting Writer, and I wrote about this here on the blog shortly thereafter. Here's a link to my discussion of my first encounter with her work as an undergraduate and my review of her reading, and an excerpt from the review along with a few poems and links to more.
"Kay Ryan Visit"
:
Tuesday and Wednesday this week I had the great fortune to interact with Kay Ryan, our current U.S. Poet Laureate. She came to the University of Tennessee to give a poetry reading and interact with students and various campus groups.
Her reading on Tuesday was exceptional in many respects. First, it filled the University Center auditorium to capacity, and I haven't seen a comparable crowd at at non-sports-related UTK event since I've been here. Second, her reading was hypnotic. I was completely sucked in and won over by her poems, and I hadn't felt this way before. Not that I was closed to or turned off by her work--it just didn't speak to in the way that other poets I adore do. I think this earlier perspective on her work is due to my initial encounter with her poems.
I first read her as an undergraduate when my poetry professor suggested I take a look at Ryan's collection Say Uncle. So, I promptly went out and put the book on my credit card (poetry and that credit card is a whole other entry I'll have to do one day), took it home and prepared to dig in to a book that would revolutionize my understanding of poetry or somehow blow my mind. What happened was anything but what I'd anticipated.
Here were these tiny narrow poems, little vertical rectangles made of words, just sitting on the page. Where was the movement I loved and found so engaging in the other poets I was reading at the time? Why were these poems even written? How come they don't say anything? Or do anything? I even remember declaring to a friend, "This is what's wrong with American poetry!" A pronouncement, among others, which I was prone to making then because, you know, I knew it all. (Yeah, right!)...
Well, I was lucky enough to talk to Ryan about my so-called "undergraduate reaction," and ask her if this is a reaction she often encounters. She was quite generous and understanding in her response. Two points she made were that she's not trying to write poems like everyone else, that she's just trying to write poems that are about or move toward the "ineffable" (her word).
This "outsider" quality is one she played up quite a bit during the reading. She's really quite funny. She stressed a few times, while talking to the undergraduate English and creative writing majors, that education tends to teach the lyricism out of us. She said that she prefers "smart" over "educated," the idea being, I think, that the education we receive diminishes our natural ability to recognize lyric, and so we approach poems in terms of canon or poetic school or the poetry wars, etc. This is an idea I quite like, and agree with to a large extent, and I can see that this was the case for me in the way I reacted to her poems early on as an undergraduate being "educated" in poetry. "There is nothing I hate more than literary snobbery," she said, "It isn't shameful to be clear."

Click here for the whole posting.
Some of Kay Ryan's poems posted previously @ Against Oblivion:
"Patience"
"Say Uncle"
"A Hundred Bolts of Satin"
"Stardust"
"Thin"