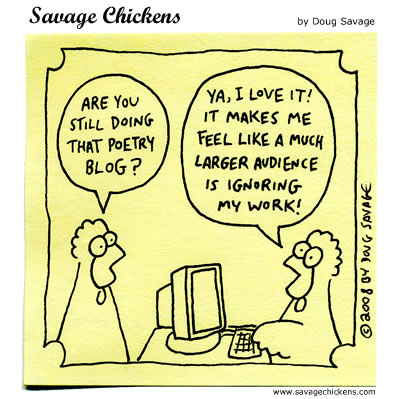 I figure the quickest way to update any remaining readers/visitors is with a state-by-state rundown. So here's the last three and a half months.
I'm working on getting back into the blogosphere. The Poetry Email List will start up again this month, so watch your inboxes. Other updates on the poems, the forthcoming book, readings, other projects, that'll all come soon and hopefully with some worthwhile content and consistency.
_______
TN – Finish dissertation, hunt for jobs, primary child care during day, teaching at night, editing
Praise Nothing
manuscript, submit grades, graduate, pack car and family, leave for vacation.
KY – Paducah McDonalds for coffee – "Two creams and two sugars."
MO – St. Louis, airport hotel, free drinks, H. first night in hotel, loves the king-size, drive & try to find something worthwhile in landscape, fail (mostly)
KS – Visit Lawrence, Thai food w/ friends, Hays, consider small-town life as viable option, regret ever leaving Kansas
CO – Denver, two days with grandfather, H. meets Great-Grandpa, BBQ w/ extended family
WY – No time for Cheyenne, Garth Brooks song, Starbucks in Rock Springs
UT – Family in Ogden, t-ball, walks to neighborhood café, patio dinners, gave a reading at Weber State (lovely time & people), phone interview for job, seriously consider Ogden as place to live & raise kids
ID – Twin Falls strip malls, invited for campus interview, no professional clothes, few job docs with me, begin mental notes on new job talk
OR – Burns, nostalgia tour of Eugene & U of O, Oregon Coast, work on job/poems in evangelical Christian tourist café (free wifi), take H. to beach!, run on beach, submit final draft of
Praise Nothing
to press, grandfather in quick decline, grandfather dies, drive to Portland, fly to campus interview in Pennsylvania
PA – Campus interview, wonderful experience, PA landscape, consider move, preliminary house hunt, grieve
WV – Morgantown house hunt
OR – PDX & Powell's
WA – E. family reunion (Seattle area), basketball with brothers-in-law, withdraw from job consideration, adoration of Pacific Northwest reaches new heights, must return to the West, cross state to parents' lakeside cabin, H. on boat, sister & husband up from CA, after months of planning: parents' surprise 40th anniversary party, relax as much as possible, break a toe, flight to CA memorial service
CA – Grandfather memorial service, grieve/visit with family, brief visit with childhood friend
WA – Lakeside relaxation, take E. shopping, Hornby's
Fever Pitch
, hyperextend knee
ID – Brief trip through, gorgeous
MT – Missoula, take H. on carousel, solo walk through old city, hit on and invited to party by girl working at wine market, excellent pizza, explore Bozeman, consider MT as viable option, Billings lunch with a tour busload of Knoxvillians, Miles City & celebrate our 11th wedding anniversary, dinner: fried green tomatoes, buffalo steak, risky crab legs
ND – Gorgeous, oil, Fargo is bigger than you think
MN – Mall of America, visit college friends in St. Paul
IA – Drive through Waterloo (home of Michelle Bachman and John Wayne Gacy), Cedar Rapids, Iowa City, Davenport, Iowa becomes viable option
IL – Champaign-Urbana, in and out of Illinois
IN – Indianapolis coffee, in and out of Indiana
KY – Regret not stopping at Toast in Louisville, at Lexington cut down toward eastern Tennessee
TN – Home, content