A couple weeks ago, I packed up my office in Neyland Stadium and hauled five years of coursework, grading, research, and ephemera to my new office in the sky: the twelfth and top floor of McClung Tower a.k.a. the post-Soviet-style "Hotel McClung."
My new degree and status as a full-time Lecturer has many perks: parking a stone's throw from my office, legit health insurance, a salary for the first time since I was a Sales Manager for Borders Books, the opportunity to teach a range of classes. This term I'll teach multiple sections of Freshman Comp as well as the 400-level British/American Modern Poetry survey.
It has been two years since I have taught the incoming freshmen and I am very much looking forward to getting into the classroom with them, teaching the introductory rhetorical skills, argument, etc, and giving them an opportunity to reach out into the University with active minds and hearts, with critical eyes, with an attitude of service and outreach. And as the first week of classes with these new students begins, I am, again, thinking of David Bartholome's article "Inventing the University," and particularly this:
"To speak with authority they have to speak not only in another's voice but through another's code; and they not only have to do this, they have to speak in the voice and through the codes of those of us with power and wisdom; and they not only have to do this, they have to do it before they know what they are doing, before they have a project to participate in, and before, at least in terms of our disciplines, they have anything to say."
(quote taken from thoughtjam)
Here's to some liberating, challenging, fun, insightful instruction and in-class conversation. Here's to my students setting out on this trek, to my students who've already begun to (re)invent themselves and their definitions of "university."
On the other hand, setting up a reading schedule for an upper-level survey is difficult because these students are at the end of their major, they're thinking about post-graduation work/lives/etc, they're enthusiastic but are ready to be done, and they need to be challenged in a way that sets them up for further study, potentially grad work.
During the summer, I kept coming up against one main design problem: this is not a graduate class. It's an undergraduate survey. Many of the students won't have a lot of background in Modernist historicity, the key players, etc. Some of them will not have read much poetry. Some of them will not have taken a literature course at all. Some of them are in it just to fulfill a writing requirement. We'll have a lot of work to do early on in order to find common ground and lay the foundation for discussion and criticism. As I always say, "Read widely. Read deeply. Write outwardly."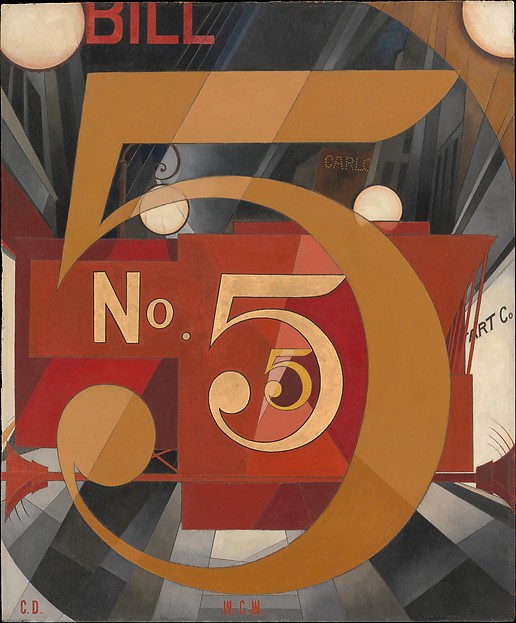 Charles Demuth
"I Saw the Figure 5 in Gold," 1928
image via metmuseum.org
In order to address these design issues, especially the depth vs. survey conundrum, I've titled the course "Modern Correspondence: Surveying British/American Modern Poetry." In addition to surveying the backgrounds/bios of the main (read "selected") poets, we'll also look at their letters, their criticism and poetics, their manifestos, how they responded to each other's work, how they responded to their surrounding artistic, cultural, and historical moment. And we'll also look at how their work is still alive today in the work of contemporary poets, ask the questions of how today's poets are, in many ways, corresponding with figures like T.S. Eliot, Langston Hughes, Yeats, Mina Loy, Stevens, and others. The blessing, of course, is that there's so much to cover. The difficulty is, well, there's so much to cover. Can't wait to get in there.
In poetry news, I sent a new batch of poems out to two journals last week, and will send out another few by the end of the month. The work on the recent poems, since the acceptance of the book manuscript, has been steady. I'm planning on using this term to take a step back and really investigate what it is I want to do in these new poems, in a new manuscript.
Typing that last sentence, I'm reminded of a conversation I had with friends last week. We were talking about what we've been reading, new book/author discoveries, etc., and the conversation turned to writing and risk. I brought up a recent Ted Conference lecture I'd heard in which Regina Dugan, director of DARPA, asks the following question: "What would you do if you knew you could not fail?"
That's it, folks. That's the question for the new semester, for my students, for my new work. The terrifying, liberating, radical question: "What would you do if you knew you could not fail?"
What's your answer?